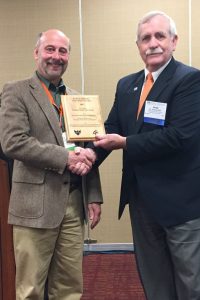 The National Association of University Forest Resources Programs (NAUFRP) and National Woodland Owners Association (NWOA) jointly presented the 2018 FAMILY FORESTS EDUCATION AWARD to OREGON STATE UNIVERSITY.
The award is presented annually to educational institutions deemed to have delivered the most effective education program benefiting family forest owners over the past five years.
Oregon State University was recognized for its 'Outstanding Comprehensive Educational Program to Improve Management of Family Owned Forests'.
Dr. Jim Johnson, Associate Dean, College of Forestry, received the award on behalf of the university at the NAUFRP annual meeting held in Albuquerque, New Mexico on November 15th.