Members of the southern region of NAUFRP come from land grant colleges and universities, as well as other state-supported universities offering graduate training in the sciences basic to forestry.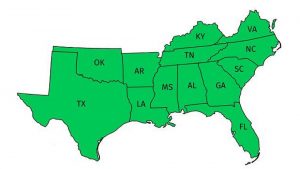 Southern Region Chair – Hans Williams, Stephen F. Austin State University
Southern Region Web site
Planning continues for the Southern NAUFRP Group meeting to be held on Wednesday, May 22 in combination with the Forest Resources Association (FRA) Annual Meeting, Omni Amelia Island Plantation Resort, Amelia Island, FL.  The FRA meeting will be from May 20-22 (agenda attached).  Details about the FRA annual meeting, including hotel and meeting registration, can be found using the link provided below. Note that members of SNAUFRP will make a presentation to FRA members on Tuesday, May 21 during the 2:00 to 2:30 pm time slot.  A draft agenda for the SNAUFRP meeting is provided below.  Thanks to Dale Greene and Red Baker for their assistance in local planning and to WestRock and Rayonier for their willingness to host our group.  Thank you to FRA for letting us be part of their meeting and providing a meeting room.
I hope to see you at the FRA meeting and the SNAUFRP meeting starting Wednesday morning.
Best Regards,
Hans
Southern Group NAUFRP Draft Meeting Agenda, Wednesday, May 22
7:00 to 8:00                Breakfast in Meeting Room at Hotel (Room TBD)
8:00 to 8:45                Welcome and Message from FRA Representative
8:45 to 9:30                Break and Car Pool to WestRock Mill
9:30 to 12:00              Tour WestRock pulp mill, woodyard, box plant; Discuss forestry program/employer issues with WestRock representatives
12:00 to 12:30            Travel to Rayonier's Forest Research Center, Yulee, FL
12:30 to 1:30              Lunch hosted by Rayonier at Crandall Picnic Center
1:30 to 4:00                Tour Rayonier forest management operations; Discuss forest health issues
4:00                             Adjourn 
https://fra.imiscloud.com/MBR/Events/National/2019-FRA-Annual-Meeting.aspx?WebsiteKey=c3cdc4fc-d44d-44fd-92be-e549bf25f2ec